In case of properly executed spring design, the design work is governed by the application and operating environment of the spring.
The most difficult environmental conditions causing changes in the spring characteristics are related to high and low temperatures, as well as to corrosion induced by humidity and chemicals. Thus, from the viewpoint of spring functionality, one needs to know the operating conditions of a spring. Then again, how should one prepare for the requirements established by the environment in order to ensure maximum service life of the spring?
The choice of raw material depends on spring operation temperature
If a spring is used at high temperatures, the tensile strength of the spring material often decreases and the elasticity of the spring is lost. The spring turns into a soft iron wire incapable of storing energy in itself. Typically, low temperatures are not as problematic, but at temperatures well below -50°C, springs become brittle. Applications involving both high and low temperatures are commonplace in the process industry, for example.
Ordinary spring materials endure various temperatures relatively well. Standard spring steel retains its qualities at temperatures up to 100°C, whereas stainless spring steel withstands temperatures exceeding 200°C. Solutions are also available for temperatures higher than that. Inconel, Nimonic and Hastelloy are special heat-resistant materials usable even at temperatures around 500°C. For low temperatures, the spring steel with an operating temperature range of -40…120°C is a good solution, or the stainless spring steel that functions well between -50 and 250°C.
Protection against humidity and corrosive chemicals is available
Typically, springs are usable outdoors, in contact with air humidity. In such cases, stainless spring steel is an excellent choice. If the spring is exposed to corrosive chemicals, acid-resistant spring steel wire should be used, which also withstands a wide range of temperatures.
In addition, corrosion can be prevented by electro galvanizing, i.e., zinc-coated spring steel. Electro galvanizing is a good choice for locations where the spring is constantly in contact with air humidity and occasionally with water. However, it needs to be considered that electro galvanizing is not compatible with all raw materials and springs. For example, in case of extension springs with turns tightly against each other, zinc only ends up on the visible parts of the spring. Electro galvanizing may also deteriorate the properties of some raw materials or cause hydrogen embrittlement in oil-hardened spring steel wires.
However, there is no universally correct answer to the question whether electro galvanizing or stainless steel wire should be used. Stainless spring steel has better corrosion resistance as compared to electro galvanized spring steel, whereas ordinary spring steel has better spring properties. Stainless spring steel is also much more expensive than ordinary spring steel, for which reason electroplated springs are more favourable in case of volume production, large and heavy springs. On the other hand, at challenging locations, stainless or acid-resistant materials are often the most sensible solution. Thus, with consideration of the operating environment, it is necessary to decide whether corrosion resistance, spring properties, or costs should receive the most attention.
Thorough spring design for cost optimization
The operating environment of the spring should be mapped in the early stage of the design, since aftertreatment or utilisation of more valuable raw material is often costly. In the design stage, the optimal material or treatment can be selected for the situation at hand, thereby facilitating optimisation of manufacturing expenditure.
If you have any questions regarding spring design, I will gladly offer advice to support the design work.
Do you want to hear more about spring design? Download our guide!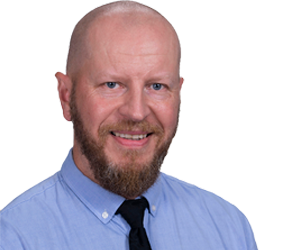 Tomi Sutinen
Account Manager, Pihtipudas