We are looking for a Designer at Vantaa
We are looking for a Designer to join our innovative tool designing team at Vantaa. You have a practical approach to overcome challenges. You are in your own element when executing your own ideas together with designing team and production.
You will design tools used in production of sheet metal products. You are responsible of tool designing from a concept to manufacturing drawings and from tool testing to documentation. You support production, tool maintenance and tool manufacturing by solving their tool related challenges together with a team. Your job includes designing a new parts and tools as well as modifying and making improvements to old designs. You're ready to take actions and participate in problem solving in production. You will support sales team by giving technical insights in order to solve customer's part manufacturability related challenges. You help our customers to develop their product concepts more cost effective and manufacturing-friendly.
Responsibilities:
• Tool and method designing for sheet metal products
• 3D-modelling (Creo) and making drawings for manufacturing
• Support production and Sales
• Participating in tool trials and problem solving
• Project management and customer communication
Requirements:
• Experience in 3D-modelling/designing
• Appropriate technical education
• Good tolerance for working under pressure
• Innovative, determined and persistent
We see as a plus:
• Experience in stamping tool designing
• Experience in sheet metal part production technologies
• Experience in machining
• Experience in designing of machined parts
• Experience in designing sheet metal products
Send us your CV with your application with salary request latest on 27.3.2022. Applications: rekrytointi@meconet.net
More details about the position: Juho Niemelä +358 40 830 5446,
4.3.22 from 13.00 to 15.00, 10.3 from 14.00 to 15.00 and 16.3 from 14.00 to 15.00
We offer you an inspiring and competent co-workers in our factory's tooling business unit and opportunity to develop in the international environment. You have a possibility to learn from best sheet metal part production experts. We invest systematically to our personnel's skills and to new technologies which give you an excellent base for success in the position.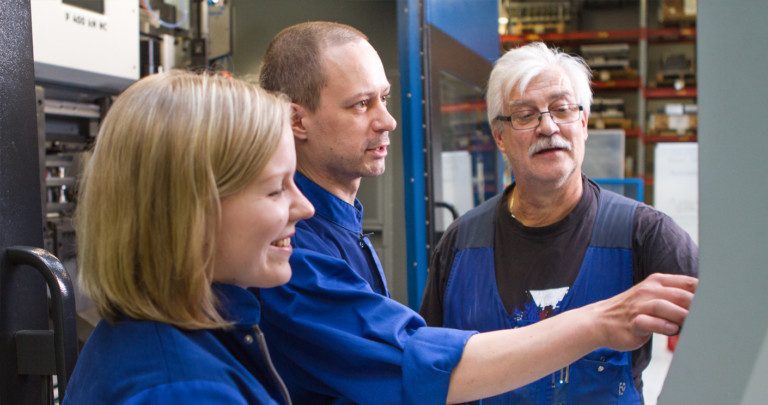 Blog
A Family Business by the Name of Meconet
Our history dates back 125 years. Today, we are a strongly internationalising company, in which different business operations complement each other beneficially.
Lue lisää