The versatile expertise and extensive machinery of the Vantaa plant allow a wide range of customer projects and solutions.
"At the Vantaa plant, we manufacture products using the multi-slide and press methods. We have invested into a wide and diverse machine fleet, which allows competitive and comprehensive manufacture of parts for the different needs of our customers. Automatic assembly is also available at Vantaa; we can weld silver and combine different parts and materials. Furthermore, we have contributed to quality control by investing in state-of-the-art measurement equipment," says Miia Sundberg, Production Manager.
In addition, our design department helps the customers with product design and choosing the right technology," Miia adds.
A prototype is a good start
The plant's servo press line allows efficient manufacture of various challenging shapes and making lightweight and dimensionally accurate products without reduction of structural stiffness. The transfer technology integrated into the servo press enables parts transfer without a carrier strip.
"Servo pressing is ideal, for example, for cup-like shapes, enclosures and deck structures, as well as for industrial design needs. This technology is used, for example, when producing the ends of ABU Garcia Ambassadeur reels, which are finely visible in our product video", Miia says. "Servo pressing is also a cost-effective method in case of large product series."
"Here in Vantaa, we manufacture products for quite different customers and industries, for example, for transport equipment, electrical products, construction industry, healthcare, and leisure," says Nina Varjoniemi, Flow Controller. "It is a pleasure to serve our customers," Miia and Nina add.
A prototype is a good start
In addition to large series, we can deliver prototypes and small series. The production chain of new products starts with prototypes intended for ensuring the functionality of the final product. "After this stage, we move on to the larger workshop. However, some of the products are only manufactured in small series – we always adapt to the customer's needs," says Harri Karukoski, Manager of the Prototype Department.
"Our salespeople map the customer's needs, and we choose our operating modes and methods based on this. For the customer, getting everything right from the start is clearly beneficial. Our customer managers make sure the customers are not left alone," Harry says, and continues: "One contact is sufficient – opening a single door gives you access to prototypes, small series and volume production, as well as to various technologies, such as deep drawing, springs, and pressing. Opening a single door will get you in good hands."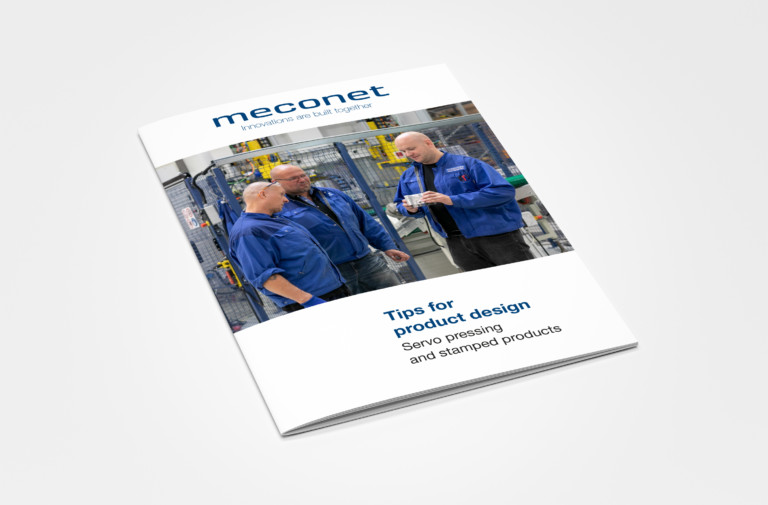 Design of pressing products
What is servo pressing? What advantages does this method have? We have collected together some tips for product designers. We…
Lue lisää